Date/Time
April 3-26, 2015
Fridays and Saturdays 8 pm
Sundays 2 pm
Credits
By Larry Shue
Directed by Ken Sonkin
Tickets
Adults: $22 in advance, $28 at the door
Youth: $11 in advance, $15 at the door
Description
Seeking to be left alone, Charlie convinces the staff at a fishing lodge in rural Georgia that he is from a foreign country and doesn't speak a word of English. Charlie then finds himself privy to information spoken around him on the assumption he doesn't understand — including a lodge takeover by the Ku Klux Klan. In an effort to communicate with his hosts about their imminent danger, Charlie is forced to rapidly "learn" to speak English. What follows is a roller coaster ride of lightning-quick dialogue, sidesplitting laughs, and hilarious sight gags.
CAST
Charlie Baker…….Ryan O'Donnell
Froggy LeSueur….Mike Reynolds
Betty Meeks………Linda Paplow
Catherine Sims….Monica Ammerman
Ellard Sims……….Aaron Murphy
Rev. David………..Dan Saski
Owen Musser…….Chad Yarish
On the Stage: Catch a funny 'Foreigner' at Contra Costa Civic Theatre
PLAYWRIGHT LARRY SHUE IS BEST KNOWN for two of his most popular comedy plays, "The Nerd," which premiered in 1981 (and which was performed by Benicia Old Town Theatre in 2011), and a similarly styled romp, "The Foreigner," in which Bay Area talent Ryan O'Donnell currently rocks the title role on the Contra Costa Civic Theatre stage in El Cerrito.
"The Foreigner" is a good-natured farce that pokes fun at eccentric personalities but also more soberly criticizes some of the darker aspects of human nature. Shy, awkward loser-at-love Charlie Baker (O'Donnell) is the reluctant guest at a secluded inn, pushed into taking a break from his dying wife's bedside by his friend Froggy (Mike Reynolds). Charlie is terrified to learn that other guests will also be staying there that weekend, meaning he will be expected to socialize — but Froggy has a plan, and his timid friend winds up playing the hero, putting a pair of arrogant bullies in their place and even thwarting an attack by an angry mob set on intimidating the landlord and scaring poor Charlie out of town.
Charlie doesn't like Froggy's idea at first. It's deceitful, pretending to be a "foreigner" who can't speak English. But after he accidentally overhears a very private conversation and is confronted by the offended party, that ruse is the only way he can conceive to politely defuse the situation. And so the deception begins.
Linda Paplow shines as widowed proprietor Betty Meeks, especially in the opening scene in her denim work clothes and rain gear, complaining to Froggy about "slowin' down," finding it harder and harder to maintain her aging property. It's the only glimpse we get of Betty's serious side before she switches gears, appearing thereafter in dress and apron as she plays the congenial hostess to her guests.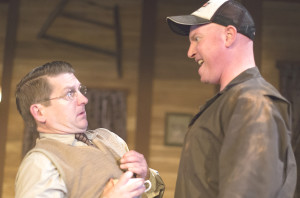 Dan Saski embodies the shifty, outwardly polished Rev. David Marshall Lee, who has been staying at the inn with his fiancee Catherine (Monica Ammerman). Rev. Lee hopes to buy the inn despite the fact that he doesn't appear to have the financial assets to swing the deal, and Catherine is blind to her beau's deceptions, continually missing clues to his hidden, devious motives.
Chad Yarish cuts an imposing figure as obnoxious, racist county inspector Owen Musser. He and O'Donnell square off superbly as the bully and his mark, making it all the more delightful to watch Charlie hold his own against him. Finally, Aaron Murphy rounds out the capable cast, providing a healthy dose of levity as Betty's dim-witted brother Ellard.
Between his unimposing demeanor and the "fact" of his language barrier, Charlie ends up being privy to everyone's secrets, which in turn makes him uniquely equipped to devise a solution to their troubles.
All of the players get in on the act in the closing scene, when things finally come to a head in a wild, double-barreled climax of horror and hapless humor.
Ken Sonkin does an excellent job directing this well-cast production, with the help of an accomplished crew that includes set designer Robert "Bo" Golden and costumer Lisa Danz.
"The Foreigner" is unusual in its presentation, combining silly situation comedy with a surprisingly serious, fact-based twist. It is uniquely Larry Shue, and the C.C. Civic troupe does it great justice.
Contra Costa Civic Theatre has been bringing high-caliber theater to the community for more than 50 years, and if the current production is any indication, they will continue to do so for many seasons to come. This summer, the troupe takes on "The Sound of Music," opening June 12. I wouldn't want to miss it.
Elizabeth Warnimont is a freelance writer specializing in the performing arts. She is also a substitute teacher for the Benicia Unified School District.